Hey people of 2GNT. My name is Justin Rademacher, call me JT. I reside in Daytona Beach, Florida. I've had the eclipse as a Daily Driver now for a few years and have been making repairs and small modifications to it as I go. My goal is to boost 15 PSI daily and have the engine mods to support it so it will last.

Current mods are
Cold Air Intake
17" Falken wheels
Painted center taillight
Blacked out sidemarkers
15% Tint all the way round'
Pioneer head unit
Kenwood door speakers
powered by a Quantum Audio QS2250
2 Audiobahn 12"s
Powered by a Kenwood 1000 watt mono

and the oh so difficult task of keeping this thing running...It's love I guess.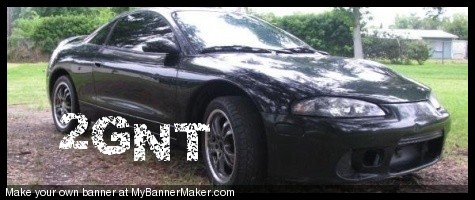 Document statistics: Last modified on 2009-01-04 19:25:01 by ThePerfectShift