IAC Motor
Function

The idle air control (IAC) motor is mounted on the throttle body. The PCM operates the idle air control motor. The PCM adjusts engine idle speed through the idle air control motor to compensate for engine load or ambient conditions.

The throttle body has an air bypass passage that provides air for the engine during closed throttle idle. The idle air control motor pintle protrudes into the air bypass passage and regulates air flow through it.

The PCM adjusts engine idle speed by moving the IAC motor pintle in and out of the bypass passage. The adjustments are based on inputs the PCM receives. The inputs include the throttle position sensor (TPS), crankshaft position sensor (CAS), coolant temperature sensor (CLT), vehicle speed sensor (VSS) and various switch operations (brake, park/neutral, air conditioning, power steering).


Location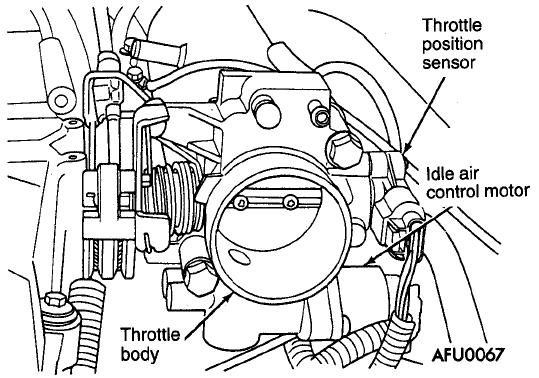 Acronyms
Sensor_locations
Document statistics: Last modified on 2008-11-11 18:06:38 by DarkOne