GSX Brake Conversion
TEAM 2GNT
Front GSX Brake Conversion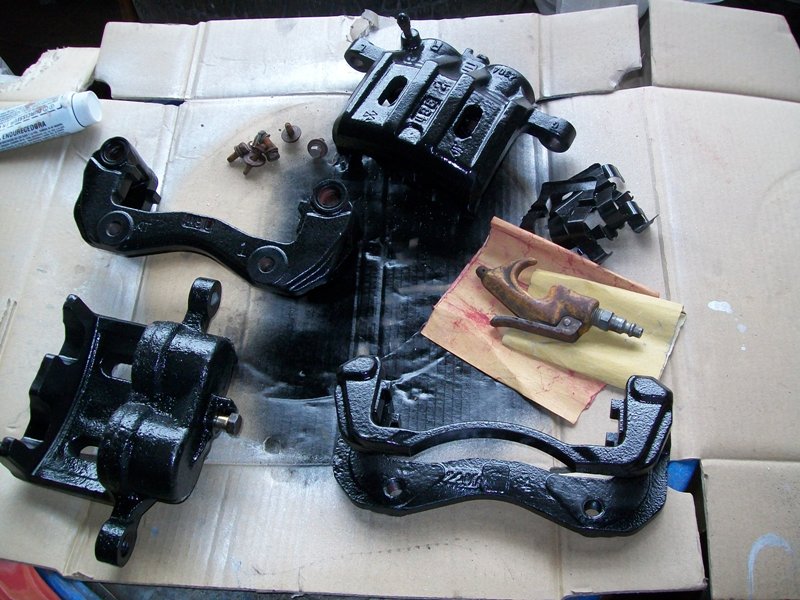 This is all you need to do this conversion. Calipers, caliper brackets, GSX Brake pads, GSX brake rotors, and shims. The brake lines should work if you use the GSX calipers (banjo fitting). However, if you use the base 3000GT brakes, you may have to obtain the screw-in fitting brake lines.


Again, I think it's worth comparing the size of the rotors between the larger GSX rotor(left) and the smaller 2GNT rotor(right).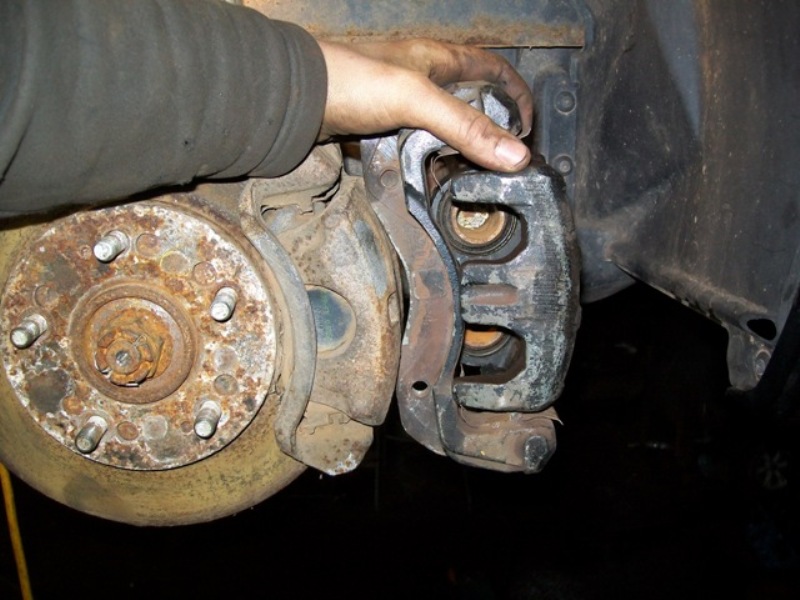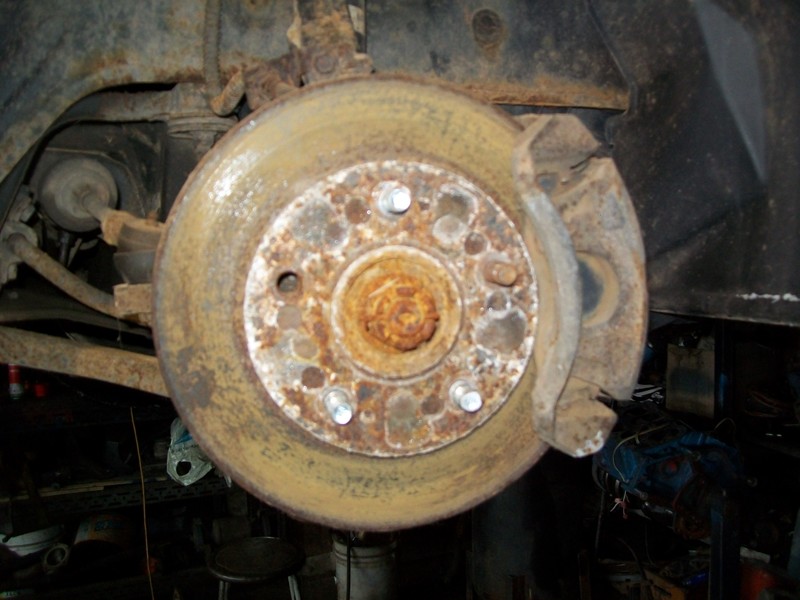 Here's the stock brake rotor and caliper. It looks very small to me. Especially in leiu of the size of our cars at 2800lbs. Many of you, like me, may have had issues with warping rotors. I believe these undersized rotors are a large contributing factor.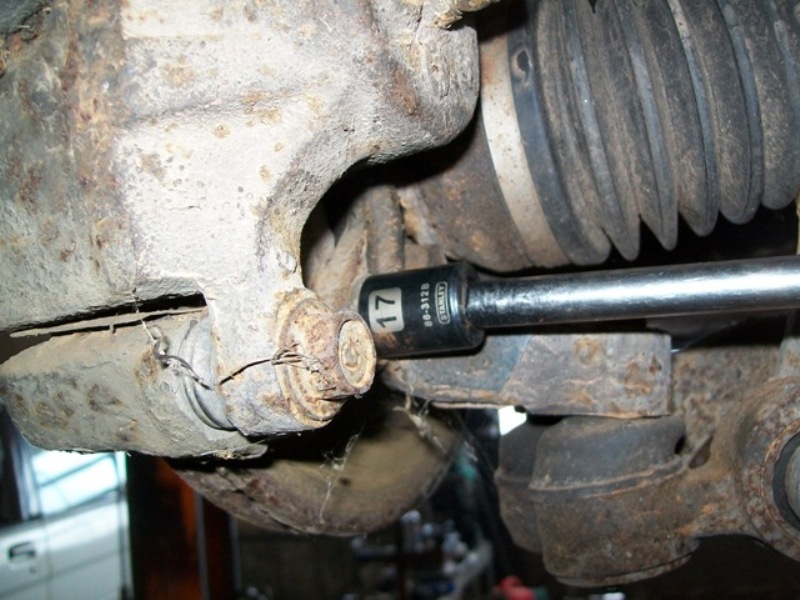 First, you can see, I removed the wheel and the rotor as well as the caliper. The only thing holding the caliper on are two 17 mm bolts to the side of the hub. The rotor should come right off, but it most likely will not. In this case, you have a couple of choices. You can try the bolt threading method to thread/push the rotor off or you can try this excellent method explained in this VFAQ.



Here's a look at the rear side of the rotor. You can see where the brake line runs and the caliper bracket, and caliper bolts are.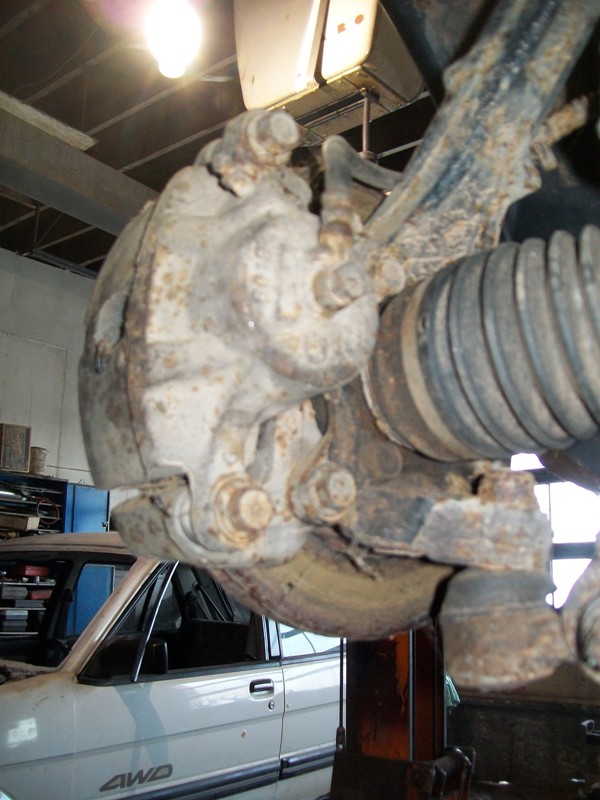 With everything off, you merely have to place the GSX rotor on the hub, and bolt up the caliper bracket and caliper up to the mounting holes (both 17mm). Next, screw in the banjo fitting and bolt into the caliper with a 14mm. You can go ahead and place the pads and shims into place now. After that, go ahead and bleed the brakes, and put the wheel back on. Repeat for the other side and you're done!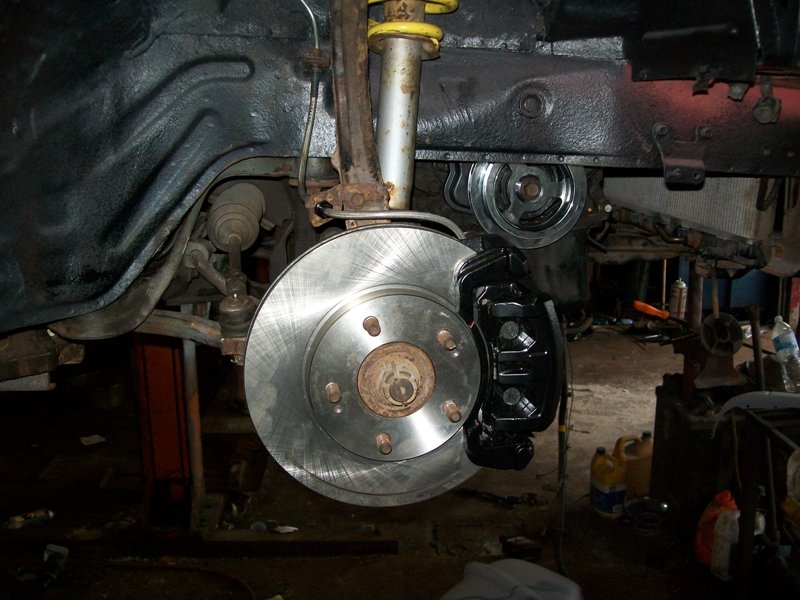 You'll probably be in a big hurry to test out your big new brakes, but go easy on them for a bit and let the pads seat themselves. You'll already be able to aesthetically enjoy all the space that's now filled up behind the front rims. The dual piston calipers looks quite pleasing and is much larger over the single piston calipers that came stock with our 2GNT's. I am quite pleased with the results and can already discern a big improvement in the braking.

Note: you might think about investing in a new spare since your stock one won't be able to fit over this setup. Additionally, if you have 14's forget about using those, but 16" rims will fit just fine.





writeup by JasonESi_T




A quick breakdown


GSX (2-piston) caliper + GSX Bracket + GSX pads + stock rotor
= Doesn't work, gsx pads hang about 1/4 inch off the end of the rotor.
= Does fit inside stock 16" 5star wheels


GSX caliper + GSX bracket + GSX rotor + GSX pads
= Works perfectly in stock 16"s
= Must bend back or replace dust shield (you have to unbolt the hub from the axle to remove it)


GSX caliper + GSX bracket + AEM GSX big brake kit & big rotor
= Needs 2mm ground off the gsx bracket and the 2gnt hub
= Needs dust shield severly bent back or removed
= Needs at least 17" wheels, of correct offset.


A GSX caliper does not fit in 2gnt bracket. A 2GNT caliper will bolt to AEM GSX big brake kit. You must have a GSX bracket to mount a GSX caliper with GSX pads.


There are (at least) 3 different kinds of GSX calipers
- 1995-1999 GSX, 7mm bleeder (8mm wrench), banjo fitting
- 1993-1994 GSX, 10mm bleeder (10mm wrench), flare fitting
- 1990-1992 GSX, Unknown, but is smaller, and has smaller pistons. Same size as 1990-1994 GST stock brakes


3000gt/stealth VR4/turbo uses 4 piston calipers and totally different pads and brackets. Only thing useful is the front brakes an from a nonturbo 3000gt SL.


Be prepared to round off the fitting on the factory hard lines. Use lots of liquid wrench. I had to use an air hammer against a 10mm openend wrench (ghetto impact wrench!) to undo it. You may want spares before you start. Front pair should be $10 total.


GSX Caliper rebuild kit | Raybestos WK2029 or Brakeware 66164, contains 2 rubber seals, 2 rings, and 2 boots. You'll need 2 packages. For some reason, Autozone lists this under 1993 Nonturbo 3000gt.


GSX pad retaining clips | Raybestos 15771 or Brakeware H5832, contains 4 metal clips that sit in bracket and hold the pads in place. You only need one package.


Factory OEM part numbers |
RMB 699 450 Remanufactured Caliper Kit LH (includes caliper, bracket, and bolts)
RMB 699 451 Remanufactured Caliper Kit RH (includes caliper, bracket, and bolts)
MR 493-985 Pad Set
MR 389-652 Shim Kit
MR 389-599 Clip Set


You can purchase stainless steel braided brake lines from www.roadraceengineering.com for $85 includes all 4 lines. You will want to be sure to specify which style of brakes you have so you can get the lines with the correct fittings to accomodate your caliper. For example, if you have a set of 1G GSX calipers you will need to specify that you need the "screw-in style fitting" for your 2G lines.


Quick Breakdown section courtesy of thedawg


Updated brake conversion pictures courtesy of Islandertalon


Difference between RS/GS/GST rotor (left) and GSX rotor(middle.) (Aftermarket 13" on right.)


____________________

Cars Modifications Control Brakes GSX Front Brake Conversion



Document statistics: Last modified on 2012-01-13 11:25:25 by xcasbonx
Back | Home



Wiki engine and all content (C) 1998-2021 2GNT.com unless otherwise noted