Project 420a Sleeper, Part 2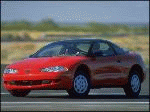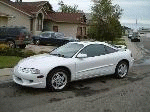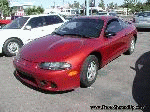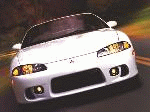 So now that we've found ourselves a fully functioning, completely stock 1995 Eagle Talon ESI for this project, we have to plan our attack. Since this is a 'sleeper' project car we have two areas to focus on, performance and appearance. In this outing we'll discuss the visual effect of the project.


Are Those Roller Skate Wheels?

There are a few characteristics of the 2nd generation Eclipse and Talon that screams "I'm the crappy version" for the knowledgeable passer-by to see. First being the wheels. If you come up on a 2G (2nd generation Eclipse or Talon for those unaware) and it's sporting 14" steel rims with hubcaps, odds are good that its not the turbo model. The FWD turbo models CAN fit 14" wheels on them but they usually came standard with 15" or 16" alloy wheels. The AWD models came with larger, dual piston front brake assemblies which cannot fit a 14" wheel. Not only is the 14" wheel unattractive, it also is very narrow with an offset that makes it look lost in the wheel well. Not aggressive looking to say the least.

We are going to opt for the 14" wheel for our look. Granted, the larger sidewall doesn't help with handling but we are building a straight line highway sleeper here, not an autocross demon. A good set of 14" tires will handle the traction duty we'll have to deal with just fine.


Sexy Body!

There were two distinct body styles for both the Eclipses and Talons. In 1995 and 1996 both cars shared the same, not-so-aggressive front and rear bumpers. Also, the turbo models came with side skirt body paneling, where the non-turbo models did not. In 1997, both cars received a face lift in the form of a beefier, "I'm a sports car damn it!" style. This included new bumper and side paneling upgrades. The non-turbo models always seemed to get the short end of the stick with the body paneling options. The Talon we purchased has the least aggressive body design that the car came with. This is a good thing though. We want to look good without radiating the aura of performance as little as possible.

The riding height of the non-turbo versions, when coupled with the 14" wheels, tends to make the car look like its ready for off-roading. Certainly not a 'sports car' stance if you ask me. For that reason alone we will keep the ride height where it is. We do plan on upgrading the struts with a set of fully adjustable models to aid in keeping the car from squating in the rear(while lifting in the front) during those moments of 'instant acceleration' that will occur when an un-suspecting Mustang or two tries to mess with us. Keeping your drive wheels firmly planted at 30 or 40 MPH is just as helpful as it is at the starting line.

Another exterior piece which is a dead giveaway that you are into performance upgrades is the muffler. If you drive up on someone with a 5" exhaust tip and an exhaust tone loud enough to be heard on the Moon, odds are good that they have performance in mind. The puny factory muffler on the non-turbo models has a single steel outlet pipe barely larger in diameter than a banana (larger, chrome tipped dual outlets on the turbo models). Not exactly what I'd call a performance oriented item if you ask me. We have some idea's how to improve this exhaust system while still retaining the factory muffler. More on that later in the project.


It's Whats Inside That Counts

The first thing in the interior that makes you think of performance upgrades are a plethora of aftermarket gauges hanging off their drivers side pillar and in the dash (especially a boost gauge if it's a non-turbo model that has added a turbo kit). This is a sure sign of someone that has added some 'go faster' parts to their ride and generally mean business to an extent. For this reason, we are going to try and hide any gauges used on this project. This will take a bit of ingenuity on our part but I am confident we can hide them well enough to stay under the radar while still being easily readable while driving. I personally want them to be hidden even to someone walking by the car in a parking lot but this may not be possible. I feel that the gauges should at least be out of sight to someone pulling up next to us on the highway, from either side.


Let's go already!

Ok, now that our appearance goals have been covered we can move on to the more important performance upgrades we plan to do. I know, you wanna see this baby start picking up speed and it will. A good plan saves you time and headaches down the road so be patient. 'Til next time!

Continue to the 3rd article!
420a_Sleeper_Part_3

Back to Project 420a Sleeper:
Project_420a_Sleeper



Document statistics: Last modified on 2007-06-30 09:56:02 by totaleclipse_05